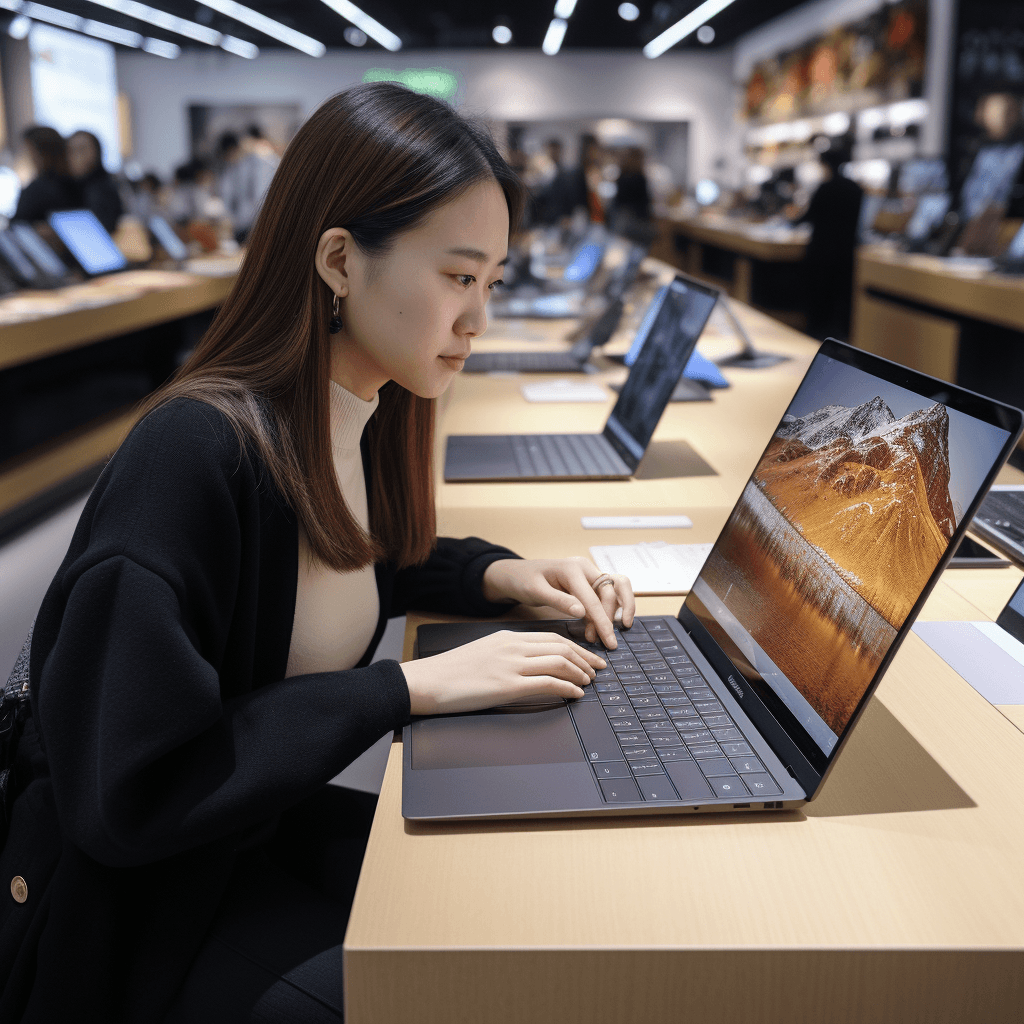 The laptop industry has come a long way since its inception, and the Huawei MateBook D 14 is a testament to this progress. With its sleek design and cutting-edge technology, this laptop is pushing the boundaries of what we expect from our portable computers. In this article, we will explore the features and innovations of the Huawei MateBook D 14, and how it's redefining the future of laptops. We will also discuss the broader implications of its groundbreaking advancements for the future of computing.

1: The Huawei MateBook D 14 - Overview and Features

1.1 Design and Build

The Huawei MateBook D 14 sports a slim, lightweight design, with a high-quality aluminum chassis that gives it a premium feel. The narrow bezels surrounding its 14-inch display make for a compact footprint, allowing for easy portability without compromising on screen size.

1.2 Display

Featuring a 14-inch Full HD (1920x1080) IPS display, the MateBook D 14 offers sharp visuals and vibrant colors, while its 16:9 aspect ratio and narrow bezels provide an immersive viewing experience. The display also boasts a 178-degree wide viewing angle, ensuring consistent image quality from various viewing positions.

1.3 Performance

Powered by a choice of AMD Ryzen processors, the MateBook D 14 delivers impressive performance for its thin and light form factor. Paired with up to 16GB of DDR4 RAM and fast NVMe SSD storage, this laptop can handle multitasking, media consumption, and light gaming with ease.

1.4 Battery Life

One of the standout features of the MateBook D 14 is its impressive battery life, with Huawei claiming up to 13 hours of video playback on a single charge. This extended battery life makes it an ideal choice for users who require a reliable laptop for all-day use.

2: Innovations and How They're Shaping the Future of Laptops

2.1 Seamless Integration with Huawei Devices

The Huawei MateBook D 14 takes device integration to a new level with its Huawei Share functionality. By simply tapping your Huawei smartphone on the laptop's touchpad, you can establish a seamless connection between the devices. This allows for easy file transfers, screen mirroring, and even using your smartphone as a second screen.

2.2 Innovative Cooling System

The laptop's innovative Shark Fin 2.0 fan design allows for efficient cooling without excessive noise, ensuring the MateBook D 14 remains cool and quiet even under heavy workloads. This cooling system not only enhances user comfort but also contributes to the laptop's overall performance and longevity.

2.3 Pop-up Webcam

Privacy concerns are increasingly important in the digital age, and the MateBook D 14 addresses this issue with its innovative pop-up webcam. Hidden beneath a dedicated key on the keyboard, the camera can be easily deployed when needed and hidden away when not in use, providing an extra layer of security and privacy.

3: Broader Implications for the Future of Computing

3.1 Thinner, Lighter Designs

The slim, lightweight design of the Huawei MateBook D 14 is indicative of a broader trend towards more portable and ergonomic laptops. As manufacturers continue to push the boundaries of design, we can expect even thinner and lighter devices in the future, with minimal sacrifices in performance and battery life.

3.2 Enhanced Connectivity and Integration

The seamless integration between the MateBook D 14 and Huawei smartphones hints at a future where our devices are more interconnected than ever before. As technology continues to evolve, we can anticipate further advancements in device integration, making it easier to share data, collaborate, and work across multiple devices seamlessly.

3.3 Focus on Privacy and Security

The pop-up webcam featured in the MateBook D 14 demonstrates a growing emphasis on user privacy and security in the tech industry. As digital threats and privacy concerns become more prevalent, we can expect to see more innovative solutions to protect users' sensitive information.

3.4 Sustainable and Eco-friendly Technologies

As society becomes increasingly aware of the environmental impact of our devices, manufacturers like Huawei are beginning to prioritize sustainability in their designs. The MateBook D 14's energy-efficient components and recyclable materials hint at a future where laptops are designed with the environment in mind.

Conclusion

The Huawei MateBook D 14 is a prime example of how technology and design can come together to redefine the laptop industry. With its sleek form factor, innovative features, and emphasis on user experience, the MateBook D 14 offers a glimpse into the future of computing. As technology continues to evolve, we can expect further advancements in laptop design, connectivity, privacy, and sustainability, paving the way for a new era of portable computing.
May 01, 2023

Category:

News
Comments: 0